Fabien Baron
Fabien Baron is an art director and magazine editor, famous for his influential work with Vogue magazine and brands such as Calvin Klein, Givenchy, and Fendi. He was born in Antony, France in 1959. As the son of a newspaper designer, Baron began his own passion for graphic design in 1976, when he began to study sculpture and design at the École des Arts Appliqués in Paris. After studying there for 6 years, he made his move from Paris to the United States, landing a job as the creative director for Barneys, New York. After reinventing Italian Vogue with director Franca Sozzani in 1988, Baron founded Baron & Baron Inc., an advertising agency responsible for propelling fashion brands to the forefront of the industry and reinventing their image.
One of the major influences Baron had on him growing up was his father, Marc Baron. Marc was a magazine editor, and frequently brought his work home with him. As a result, young Fabien was constantly surrounded by the likes of fashion magazines such as French Vogue, which Fabien says sparked his interest in the designing world. His father taught him about typography and layouts, and his influence is shown in Baron's use of bold, focused typography in his designs. When Baron grew older, he began his studies at École des Arts Appliqués, where he developed his skills in photography, design, sculpture, and painting. He eventually took an interest in American culture, as he believed European popular culture was simply following the lead the United States had set, without adding anything worthwhile on their own. There was a "six-month delay", as he called it, for Europe to update itself on what was popular in America. Thus, he made the decision to move to New York in 1982.
As a 21 year old newly arrived in New York, Baron had few connections in the city. One of the men he did know, Carl Lehmann-Haupt, fortunately connected him to the late Alex Liberman, who began Baron's New York career as an art director at Condé Nast. From Condé Nast, Baron moved on to GQ and New York Woman, where he was an art director for both magazines. His experience and connections in the fashion magazine industry in New York led to him meeting Franca Sozzani, an Italian journalist that Baron had admired for quite some time. Together, in 1988 they redesigned Italian Vogue, with Sozzani as editor and Baron working under her. After his work with Sozzani, his industry connections grew enormously and he began to edit and direct numerous other magazines. He worked on Harper's Bazaar, Interview, and Vogue Paris. While Baron worked on these magazines, he also founded and became CCO of Baron & Baron Inc. in 1990. Baron & Baron is a fashion advertising agency focusing on clothing, perfume/cologne, and cosmetics sales and ads. After 1990, Baron split his time between directing for magazines and creating corporate identities for many different fashion and fragrance companies. Baron & Baron was involved with numerous brands and personalities, including Madonna's books and music videos, Giorgio Armani's advertising for his fragrances, and perhaps most notably, he collaborated with Calvin Klein on a new logo, packaging, and advertising format for their perfume and underwear launches.

In his 1992 collaboration with Calvin Klein, Baron brought his signature minimalist style to the company's logo (seen above) and advertising layouts. Baron's goal in redesigning the CK logo was to illustrate the elegance and simplicity of the brand through the font choice and details presented in the logo, and the success that the advertisement campaign had demonstrated how well he had completed the job. Another one of his many major contributions to Calvin Klein was his key role in the development and branding of CKOne, Calvin Klein's first unisex fragrance. After the success of the fragrance, due in part to Baron's excellent knack for attention-grabbing branding, CK retained him for work on other products, such as their recent fragrances, underwear lines, and even a Super Bowl ad from 2013. His minimalist influence on Calvin Klein is undeniable; his redesigns and overall work helped to propel them to the forefront of the industry in the 90s, and has helped them retain their popularity since then.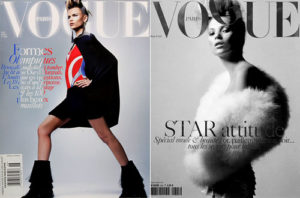 While not all of his agency's work has been as popular or prominent as his work with Calvin Klein, Baron's agency is responsible for a revival of many other brands and magazines, through advertisements, redesigns, and other methods. In 2003, he was brought on to French Vogue as a creative director, where he redesigned the magazine and is considered responsible for bringing it out of the danger zone and into the world as one of the most popular fashion publications of its time. His redesign is picture above, featuring his signature style of bold, striking text on a simple background in order to call the audience's attention to the text. His experiences with his father and his own work with Vogue in particular inspired him to redesign the magazine. At this point in Baron's career, his reputation as a genius director and his uncanny knack for knowing what makes a brand succeed made him an extremely valuable asset to anyone fortunate enough to work with him. This reputation led him to directing roles at Burberry, Givenchy, Armani, Yves Saint Laurent, and other high level fashion brands.
After graduating from his role as purely an art director to CCO of an advertising agency, Baron learned he had to diversify his skill set as a businessman and a graphic designer in order to remain successful. He has expanded to create his own eye wear and furniture brands, which he has of course included his classic bold, minimalist styles into. Given his background in magazine design and directing, he hopes to potentially begin his own fashion or art magazine as the editor. Regardless of how he chooses to continue his career, there is no doubt that Fabien Baron will continue to revitalize graphic design with his simple yet bold design choices, as well as his eye for detail and contrast.
Bibliography/Works Cited: 
http://www.eyemagazine.com/feature/article/reputations-Fabien-Baron
2. https://www.businessoffashion.com/articles/intelligence/as-branding-evolves-whats-a-logo-worth
3. https://www.businessoffashion.com/community/people/fabien-baron
4. https://www.forbes.com/sites/emmasandler/2017/11/02/fabien-baron-kim-kardashian-and-calvin-klein-for-interview-magazine/#44b0317b6dc7
5. https://www.businessoffashion.com/community/people/fabien-baron?collections=6&tags=2&offset=25&limit=3
6. http://adcglobal.org/hall-of-fame/fabien-baron/
7. http://www.hintmag.com/hinterview/fabienbaron/fabienbaron3.php
8. https://www.nytimes.com/2008/09/28/fashion/28FABIEN.html