Eddie Opara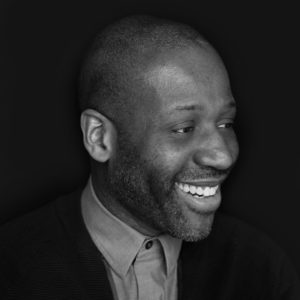 Eddie Opara is a successful designer who began his career through his study of graphic design at Yale University in 1997 and working for well-known establishments such as 2×4 and currently, Pentagram. While the projects that he discussed during his presentation were centered towards designing brand identity, publications, packaging, and environments, I discovered that a lot of his projects incorporate multi-media such as interactive installations and user interfaces and software. I really appreciated the break down of his strategy for designing or his approach to his work, as well as the emphasis on accepting failure.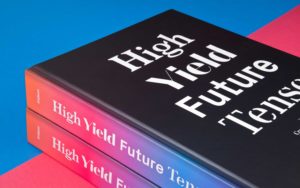 Whether it be redesigning the branding for an established company such as Lulu Lemon or Cooper Hewitt, or designing the book High Yield Future Tense, Eddie Opara always tackles his projects with an innovative and strategic approach. During his presentation, he emphasized above all the importance of having a sense of language which incorporated theory learned throughout his education as well as the ability to see your own work in the end result. He broke down this strategy that he devised into several categories or spectrums within that include neutrality, variable, adaptability, which branch to entropy and speculative aspects in order to be eloquent about one's language and connecting your speculative to your spectacle.
I found many of the design projects that he presented interesting such as his work with Nike and his task to develop a wayfinding structure for their headquarters, and how he systematically broke down the signage structure they currently used (typography, custom grid, icons, maps) and created a structure that at every angle, the 26 degree angle that is strategically used within their branding identity can be seen. However, I was intrigued by the design projects that he presented that weren't prompted by well-established companies such as his Arthur project and the OClock. With Arthur, he was moved to create an interactive device throughout one of his children's schools in which they can communicate with in a similar fashion to Alexa, while also drawing attention to environmental conditions that affected the school. Eight of these devices were placed within the school, and while it worked most of the time, there were a few shortcomings or drawbacks with it that he discovered through this application such as the fact that there was no control over data due to firewalls to prevent curious hacking by the kids. Even though he doesn't showcase this project in his portfolio, I really appreciated learning more about this project and how failure within a design at any stage happens. Even someone with as much as experience as Eddie Opara shed light on the need to for designers to confront the reality of failure within their designs.
Eddie Opara also discussed how to move forward when a client upsets you or how you may feel as if you don't want to have anymore clients in response to this, raising the question of "how do you create again?". Due to the time he was not able to fully delve into this project, however, he provided a quick synopsis of his project OClock. In response to propelling past the not-so-great experiences a designer may face when working with clients, he alludes to moving past this through self-creating. He did this by identifying his interest in his wedding band and incorporating this into the strategic and innovative design of a clock. Through his process, he presented an end result that did not have hands to tell the time, and instead the seconds, minutes and hours were determined or read by different colored lights and according speed that also doubles as a light.