Robert Brown John
Robert Brownjohn was born in 1925 in Newark, New Jersey. His father, a bus driver, died at age twelve. He did the title sequence for the second James Bond Movie, and it was really good! His addiction to drugs, specifically heroin, and his fast-paced lifestyle led to his untimely death at the age of forty-four.
These are the headlines on most biography pages covering the life of Robert Brownjohn. After reading more about Brownjohn, or "BJ" as he signed his name, it became clear that he had such personality, it almost seemed to outshine his professional career as a graphic designer. His sense of humor and character not only propelled him into the social scenes of rock stars and jazz musicians, it was funneled into his work and work life.
"He liked a drink in the afternoon, often to deal with the hangover from the night before, but he got paid vast sums of money compared with the rest of us because he was so smart and entertaining. Agencies were just happy to have him around, wheeling him out for clients once in a while." – Alan Fletcher
Those qualities were fundamental to his design and made his work that much more impressive. His ability to channel his personality into his design is part of what really distinguishes him as a designer. We can see his playfulness in works like his ad for Yardley Lipsticks where he loaded up lipsticks into a holster with the caption, "A Woman's Ammunition".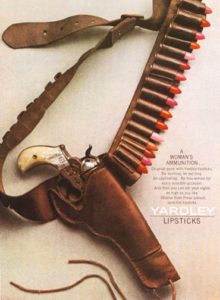 In 1944 he studied at the Institute of Design in Chicago, formerly the New Bauhaus. There he studied under Moholy-Nagy, a prominent artist and teacher at the Bauhaus and the New Bauhaus. That molded BJ's work and is the influence behind the structural qualities of many designs we see from him, like the Wall Hangings and Rugs, or Philadelphia Orchestra posters. Then BJ began his career by moving to New York in 1950, where he started working as a freelance graphic designer.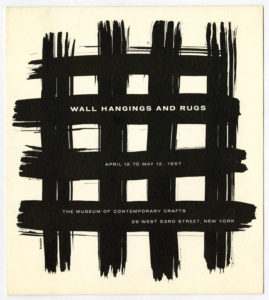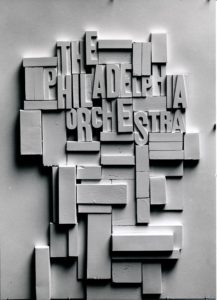 BJ had an affection for typography. Katie Homans, another graphic designer, is quoted saying   "Brownjohn lived what he preached; his London flat was full of typographic junk: broken signs, individual letters, torn paper with unusual printing." He was playful with type and challenged viewers to look at it as form. His type almost always boosts the meaning of the word and adds more depth and emotion to it. He worked on the book "watching words move" which exploits this concept to its fullest in a very simple but impactful way. The book is a series of words, all in the same typeface, that are altered to enhance their meaning. For example, taking the "g" on the end of the word hang and tilting it off the word so it "hangs" off the end of the word.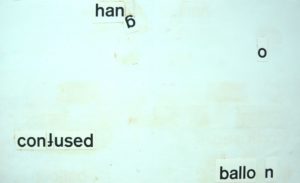 That kind of playfulness is how he was out of his work life too. People wanted to be friends with him because of it. He was a fan of jazz music became good friends with Miles Davis and Charlie Parker and other prominent musicians at that time. It is quite amazing that he was able to navigate that social scene and he actually became a celebrity in his own regard. That popularity sparked a lot of interest in his work and made him a highly desired designer. Those kind of connections gave him opportunities like late in his career when he designed the cover for the Rolling Stones' album Let It Bleed because he was close with Keith Richards. The album cover is a picture of an extravagantly decorated cake topped with the models of the band member, in the back cover is of the cake, everything is destroyed and all the band members are knocked down aside from his friend Keith.  Although moving fluidly in that scene was great for his career, it also had a big impact on his personal life. Drugs often go hand in hand with that rock and roll lifestyle, and BJ became addicted to herion.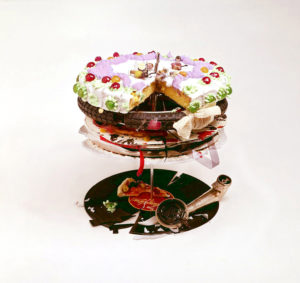 In 1956, he married Donna Walters and the next year would go onto open up Brownjohn Chermayeff & Geismar, or BCG. The brand design firm would do experimental type, print, and also took on corporate clients like Pepsi. The firm, now Chermayeff & Geismar & Haviv,  is still around today as a branding and graphic design firm.
Shortly after, in 1959, he left the company he helped start and moved to the United Kingdom for the more liberal policies on drug use. He fit in with the "swinging London" lifestyle, which represents a shift towards more social, sexual, and cultural freedom in 1960's London. From then on his career life bounced in between New York and London. He had a brief stint working at the J. Walter Thompson advertising agency before joining the McCann & Erikson firm in1962. That same year his wife separated from him and moved with their daughter to Ibiza.
It was around this time he began working with moving images. It is here you can see some influence that Moholy-Nagy had on his work. Moholy-Nagy's "Licht-Raum Modulator" was part of a sound and light performance that filmed videos being projected onto a sculpture. It is clear that this was influential to one of Brownjohn's most well known works, the title sequence to Goldfinger, where he took a model covered in gold paint and filmed projections of scene from the movie onto her body. Often repeated in bio's of him as an attest to his sense of humor, one scene is a projection of a golf ball being shot with the hole lining up to it appears to be going into the model's cleavage.
In 1970, Brownjohn's over-the-top face paced lifestyle ended short when he died from a heart attack. He was only forty-four. His last work, a peace poster for New York's Vietnam Peace Moratorium campaign, seemed to foreshadow his untimely death. It was a minimalistic poster with lots of white space. In the middle "Pe" is scrawled before an ace card, known as the death card, is placed next to it, followed by a "?". The bare poster is simply signed "love, BJ".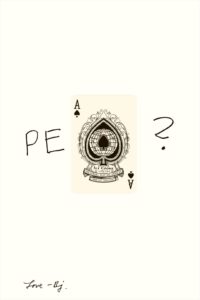 Bibliography
Delaney, Sam. "Bond's Unsung Heroes: Robert Brownjohn, Designer." The Telegraph, Telegraph Media Group, 21 May 2009, www.telegraph.co.uk/culture/film/jamesbond/5296930/Bonds-unsung-heroes-Robert-Brownjohn-designer.html.
Douglas, Ava. "Robert Brownjohn." History of Graphic Design, www.historygraphicdesign.com/the-age-of-information/the-new-york-school/242-robert-brownjohn.
Revolvy, LLC. "'Robert Brownjohn' on Revolvy.com." Revolvy, www.revolvy.com/page/Robert-Brownjohn.
"Robert Brownjohn." ADC • Global Awards & Club, adcglobal.org/hall-of-fame/robert-brownjohn/
Biography by AIGA. "Robert Brownjohn." AIGA, www.aiga.org/medalist-robertbrownjohn.
"Robert Brownjohn – Biography." RoGallery, rogallery.com/Brownjohn_Robert/brownjohn_robert-biography.html.