Eddie Opara
All the guest speakers we have had this semester were so different in terms of the kind of work that they do and I was introduced to so many different perspectives, ideologies, methods, processes. I was wide-eyed what this new lecture would be about. I had gone through the description but there wasn't much I could appreciate. Deborah introduced Eddie Opara as her friend to the audience with his projects spreading over all the sections of our design history course. So this was Eddie Opara from Pentagram! Before he began he opened his shoes because he preferred giving a talk that way and then talked about the hole in the socks, no this wasn't the topic of the lecture but made me think in an entirely different direction more towards psychology, and the essential human nature and reactions. Back to the topic, Eddie called himself the Pentagram baby because he was the same age as Pentagram.
He was going to talk about the process which he follows and the methods he uses. Initially, when he started off as a young designer working with client briefs, he felt a lost sense of energy and that is why he was posing questions to himself. He was trying to find out things he believed in, what were the proponents, pushing factors of his design. He questioned himself if he could see his work in the end result. Majorly speculating and trying to find out his process what he believes in. He drew a circle on a long whiteboard: as the circle is never ending, on the course of work-life designers keep learning. Then he drew a straight line and on it listed his methodologies on the peaks below the line and things done/topics of his work on the top peaks. It looked like: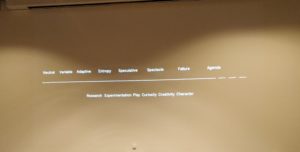 He explained each of the ones on the top through examples of projects he did. Starting with Cooper Hewitt and the mission which was to create an identity naming structure which could be utilized for a long time. This all was fairly important to understand for me as a graphic designer. How elements in a system are designed and how these elements work in coherence to create a system. For this project, they used the concept of 1)Neutral. Their approach to the design was to create functional, bold, optically aware, and a neutral solution which they did.
"Everything we did was a system even our sketches were a system."
"Neutrality- doesn't have to stay in one place, it should adjust, feel, add dimension, structure to that form"
He moved through the list of things on the peak 2)Variable, 3)Adaptive 4)Entropy quickly using projects like PYER MOSS, NIKE wayfinding, Lulemon Bags, FIT as examples. He mentioned "Root" which he defined as something which needs to be found before beginning any design process.
"Everything I do should have a root/origin"
As an example of root from the wayfinding design project for Nike, he talked of Nike using hash marks in all of its designs which have a 26-degree angle! So that was the root and from that, they built upon and created a system of wayfinding signs, icons. Their signage structure used movement which was pretty cool. Finding the origin was a really important take away for me. Because this meant conducting your research right.
Next on the list was 5)Spectacle which he explained through one of my favorite project in his presentation. "MahaNakhon" It was brilliant. I could see and learn how graphics could be expanded and visualized in different places. It was amazing and definitely worth checking out. (https://vimeo.com/219591256). They generated sun and moon using the triangles. When you see it you will know what I am talking about. He went on to talk about 6)Speculative which he said wasn't independent but came with some form of spectacle in his projects. This was another cool project pentagram did with MIT, MAKR SHAKR. It was about robots using your data to make cocktails. It was sort of a spectacle, it was speculative in the sense they use your data! Eddie also expounded on the term Digital Twin, which could be for a better future but that would mean all your data is accessible and privacy is an issue.
"Ideas of spectacle to speculative but be very very careful".
He soon wrapped up his presentation by talking of project Arthur(data visualization and graphic design product) which was sort off failure in his eyes and then about the ongoing one Oclock. The length and breadth of projects he explained in the talk explained why Deborah said his work spans all parts of our design history course(identity, print, brand, space, screen). All the projects he explained had something of value and I learned a lot from the talk.  Knowing about the ongoing practices and looking at such diverse projects would help generate more ideas. Especially the spin-offs which are the ideas that are little sparks of creativity that are generated in your brain when you feed yourself which such amazing content.