Lift n' Peel
Picture me, this morning, at 6:30 AM.  Trying to be healthy I open a new bottle of vitamins, and of course there is one of those ridiculous fresh seal tops on it.  See the following picture.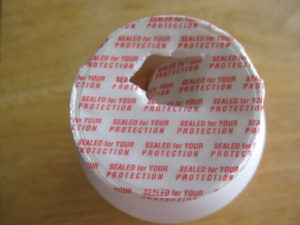 After a few stabs with the dull end of a fork, this is what my bottle looked like (note this is not the actual bottle, it was still dark out and I threw the pieces in the trash immediately.)  A real annoyance, even at any time of day and what seems to be an unnecessary overkill to keep items in their container before purchasing. All in all, poor design.
Fast forward to lunch time, and it was lemonade time, specifically, Simply Lemonade's Raspberry flavor.  It was a new bottle so the fear of facing another dreaded "fresh seal" was upon me.  I pop open the cap and I am joyously reminded of the best invention of modern time:  the Lift n' Peel!  This nifty device is a substitute for the dreaded one posted above and is much easier to remove for the consumer.  It can be used on anything from vitamins and liquids, to powders or anything else that comes in a jar or container.  Many of you will recognize the easy to use application.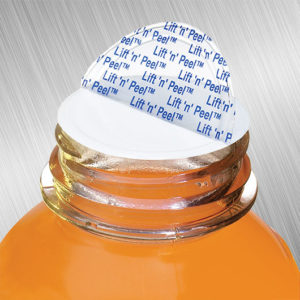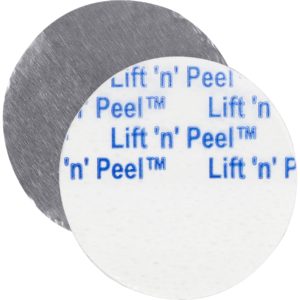 My reason for choosing this product as my 'Wild Design' is not for its looks but rather for its functionality.  We often lose sight of the goal of design and only become concerned with how something appears.  In this application, a process that is notoriously difficult, frustrating, and sometimes messy, is given a solution that is simple, mess free, and can be widely applied.  The first time I was faced with a Lift n' Peel I did not even read the tiny blue writing on the "flap," but rather just knew what to do in the situation.  Given the scenario, the shape of the tab, as well as the orientation of the seam, it is fairly user friendly in that most people will have little to no difficulty with it.  This I believe, is a sign of great design.
The Lift n' Peel provides consumers with the easiest way to complete a difficult task.  It does so in a minimal fashion that is self explanatory.  There is no reason why this product should not replace all containers with the outdated "sealed for your protection."
I would happily open a new lemonade, vitamin bottle, or big jar of powder everyday, knowing the Lift n' Peel was there for me.
Photo Citations:
http://kimmiphillips.com/?p=1505
https://www.preson.com/products/lift-n-peel/