RUBAIYAT OF OMAR KHAYYAM
I was looking at the list of books we could review, even before visiting the collection, and I took no time in deciding that I will be reviewing Rubaiyat of Omar Khayyam, the reason being Omar, a poet who wrote in Persian. I can understand Persian in bits and pieces because of the similarity of some words with Urdu so I wanted to see and read this translated book. Rubaiyat means a collection of quatrains, Omar mostly wrote quatrains. They have a rhyming scheme of aaba. The mental image for this book set in my head was of an old book with yellowing, fragile pages. The physical image was similar except it was hard bounded. The sides of the pages were flaky and tearing up. Paper on which the text was written wasn't very thick but the paper where the images were, was glossy. Feeling and smelling old paper has always been something that I have liked and I had the same feeling with this book. The images and text came alternatively and there were a lot of blank pages in between, there was no printing on the left pages/back of a page on the right. The text was surrounded by illustrations, they were carefully thought out and drawn, and were beautiful. Some of them resembled Islamic motifs like the ones I had seen even in Islamic architecture. Also, the Illustrations went well with the text, like if the text had something to do with vessels the illustrations would have chalice or a vessel. Same was for the images. They were carefully taken, It doesn't seem that they were manipulated, you got what you saw through the lens. Photographers did a great job of composition, dressing up people and having them hold objects, in some images the text was also there. At first, I couldn't make sense out of the pictures. Because they didn't depict what the text said and there were some nudes in that! What I knew of Islam and how I thought of it was that it had a set of ideals for women to follow and, what I saw here was women posing nude. This was something hard for me to digest and so I dived deep into the book. Eventually, got to an understanding that some pictures were a little abstract while some depicted what the text said Like the example below. Also, there were arguments that FitzGerald has put in his translation of Omar's quatrains "FitzGerald's translation is rhyming and metrical, and rather free. Many of the verses are paraphrased, and some of them cannot be confidently traced to his source material at all. Michael Kearney claimed that FitzGerald described his work as "transmogrification". To a large extent, the Rubaiyat can be considered original poetry by FitzGerald loosely based on Khayyam's quatrains rather than a "translation" in the narrow sense."[1]. I was reading this another article where Sadegh Hedayat, a modern scholar also defended FitzGerald's position[2]. These two references could actually explain what FitzGerald thought of Khayyam and why there were nudes in this book.
Above is the image of the text and the image, thereafter book, wine, bread, and a lover would perfectly sum up a paradise. Here text and the image go together.
While here image does not explain the text.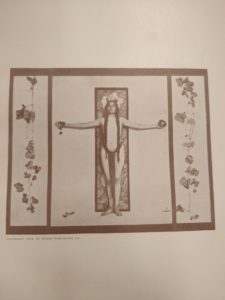 Something that stuck out was that there were no page numbers in the whole book. Other things that I observed was the way of writing, the word scattered written as scatter'd and at places, the author has used accent aigu(') on some characters, there were some ink spills at certain places on certain characters too. I don't totally understand the reason for it. The most interesting part of the book for me were the images and some rubaiyats, which were heartfelt.
The book is special because Khayyám's poetry has, undeniably, stood the test of time. In his native Iran, he is a towering figure whose book of verse, like that of Hafez's, is very much a household staple. FitzGerald's rendition of the Rubáiyát is still, in spite of the prodigious liberties he took, the most well-known English version of it by far, and an English classic in its own right. Elsewhere around the world, his poems can be read in virtually every language imaginable[3]. Also, the prolonged discussions it leads to on the correct interpretation of the philosophy behind the poems creates something of a mysticism one would want to know more about. Additionally, there have been many editions and illustrated versions of this book. Omar Khayyam was so popular that
"Cost, according to Sotheran's, was to be no object; the bookbinders were given carte blanche to let their imagination go wild and conjure the most bedazzling book the world would ever behold. Completed in 1911 after two years of intensive labor, the book – of Edward FitzGerald's loose Victorian interpretations of Omar Khayyám's poems, illustrated by Elihu Vedder – came to be known as 'The Great Omar', as well as 'The Book Wonderful', on account of its sheer splendor. Gracing its gilded cover were three peacocks with bejeweled tails, surrounded by intricate patterns and floral sprays typical of medieval Persian manuscripts, while a Greek bouzouki could be seen on the back. Over 1000 precious and semi-precious stones – rubies, turquoises, emeralds, and others – were used in its making, as well as nearly 5000 pieces of leather, silver, ivory, and ebony inlays, and 600 sheets of 22-karat gold leaf.[3]"
This notable book The Great Omar was one of a kind and it drowned with the Titanic somewhere in the Atlantis.
This book can fit in a lot of places, you can say the history of design/art as well as general history too. The two photographers who created photographs for the book are Mabel Eardley-Wilmot and Adelaide Hanscom Leeson. "Eardley-Wilmot and Hanscom Leeson's photobooks are early examples of photopoetry, a neglected art form in which combinations of poems and photographs create illustrative, evocative, and symbiotic relationships between text and image. Given FitzGerald's own interest in photographic culture and the poem's concerns with literal and metaphorical truths, the Rubáiyát illuminates practices of understanding and translating other cultures in the Victorian period"[4].
There is so much to this book! I don't think I covered everything this book had to offer even after reading the whole book. My understanding of the text could be different from what the author wanted to convey. It was while I was writing this article that I this thought crossed my mind and I felt that this book in some parts was romantic too, at least made my heart jingle. Lastly, before I end I wish to put out this beautiful quote from this book:-
With them the seeds of Wisdom did I sow,

And with mine own hands wrought to make it grow;

And this was all the harvest that I reap'd-

"I came like Water, and like Wind I go"
WOW!! isn't it! 🙂
REFERENCES
[1] https://en.wikipedia.org/wiki/Rubaiyat_of_Omar_Khayyam
[2] http://www.angelfire.com/rnb/bashiri/Fiction/Learning.html
[3] http://www.bbc.com/culture/story/20180111-the-rubaiyat-historys-most-luxurious-book-of-poetry
[4] https://www.jstor.org/stable/10.2979/victorianstudies.58.4.03?seq=1#page_scan_tab_contents