Neutraface Font Around Campus
NC State University has a brand to uphold and part of that brand is the types of fonts and typefaces that the university approves of and uses. The primary typeface for NCSU is Univers, but they also use Glypha as a secondary typeface and Arial as a substitute font. However, if you look around campus you might notice a few additional typefaces, one of those being Neutraface on the signage of several of the building around campus including Broughton and Riddick hall.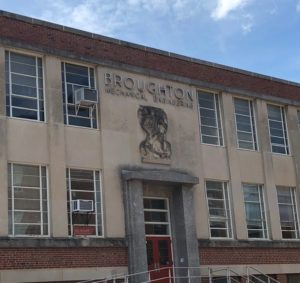 The typeface Neutraface is a geometric san-serif typeface that was designed by Christian Schwartz and released in 2002 and it has a very modern feel being called "the most typographically complete geometric sans serif family ever" by Schwartz. Despite that and despite the fact that Neutraface was designed to encapsulate the ideas of influential modernist architect Richard Neuta, I think that the typeface doesn't look modern at all and really appears dated and vintage on the building fronts. The buildings that Neutra designed were very geometrical and symmetrical like Riddick and Broughton but they have very different styles and feelings that are associated with them. I think that maybe because the fronts of the Riddick and Broughton are very grey and adorned with stone reliefs, and the Neutraface is made of metal it all gives off a very industrial feeling that heavily reminds me of the typefaces, structures, and sculptures of the Soviet era. I think that its really interesting that the backdrop of a modern font that is made to exemplify a modern designer can end up conjuring up images of something that is the complete opposite.
Images courtesy of Sazikov from sazikov.livejournal.com