Rick Griffin
Rick Griffin was a well-known comic, surf and psychedelic artist born June 18th, 1944 in Palos Verdes, California. At Alexander Flemming Jr High, he met Randy Nauert, who later taught him to surf (in exchange for teaching Nauert how to shine shoes) when he was 14 and whose future band he would make artwork for. Griffin's father was an amateur archaeologist and took him on digging trips in the Southwest when he was younger, where he found ghost town and Native American artifacts which would eventually influence his art.
He began his art career in the 50s by reproducing Mad Magazine images and then established his surf doodle style. His friends would commision original doodles on their shirts for about $5 each in today's money (or 50 cents in the 50s). At Nathaniel Narbonne High School, Randy acquainted Griffin with John Severson, showing him Griffin's notebook full of sketches. Severson later started Surfer Magazine and invited Griffin to join their team. Griffin joined them soon after finishing his time at Palos Verdes High School. Before joining them, though, he did work for Greg Noll's surfboard company decorating price lists, Bing Surfboards, and the Illustrated Surfer's Dictionary. Griffin actually redrew a few sketches from that notebook for Surfer Magazine covers.  While at Surfer, he created the persona Murphy, who adorned a 1962 edition of the magazine and became a popular character thereafter. The surf scene in California at the time practically adopted him as their mascot. The idea originally came from a trip to Huntington beach that Griffin and Nauert took together where heard a surfer say "There goes Murphy!" multiple times and never got to meet him, but wanted to imagine him as the ultimate surfer character. Griffin left Surfer Magazine in 1964.
One moment soon changed the young surfer's entire life. After hitching a ride to San Francisco because he was planning on moving to Australia, Griffin fell asleep and ended up in a car crash that threw him into the air and shattered his suitcase. The driver had been swerving around, laughing maniacally, and lost control of the car. He awoke in a hospital and the first thing he heard was someone reciting Psalm 23: "Even though I walk through the valley of the shadow of death, I will fear no evil, for you are with me;" which ended up being a large part of why he later converted to Christianity. The accident left his left eye dislocated and gave him a facial scar for the rest of his life. It's speculated that this may be the origin of inspiration for the disembodied eyeball often seen in his work. In addition to the winged eyeball, Native Americans, skulls, hearts and cartoon characters were common in his work. After the accident, he developed his unique, fluid, and barely legible lettering style, grew a beard, and started wearing an eye patch.
He attended university at the Chouinard Art Institute, now known as Cal Arts, where he met his wife-to-be Ida Pffeferle and got involved with a group of musicians/artists called the Jook Savages. He and Pffefferle took a trip to Mexico for surfing and then met up again with the Jook Savages so he could create rock posters for their art show. After that, he created the poster for the 1967 event in Golden Gate Park called the "Human Be-In," after which the famous Summer of Love commenced. This poster depicted a Native American with a guitar sitting on a horse and advertised the event as a "gathering of the tribes." Around this time, the Haight-Ashbury hippie scene emerged and his work became very popular.
Griffin produced a series of posters for the producer of A Family Dog Collective and the Avalon Ballroom manager, Chet Helms and the organizer of events at Fillmore Auditorium, Bill Graham. When Griffin first showed up to Helms with his portfolio full of surf magazines, the man was very impressed and instantly hired him. These connections led him to creating posters and cover art for a wide array of icons including Jimi Hendrix, the Doors, and the Grateful Dead. Griffin produced a lot of art for the famous psychedelic band the Grateful Dead, and was most well known for his record sleeve art on Aoxomoxoa as well as his posters. He also created the cover art for Wake of the Flood, Reckoning, What a Long Strange Trip it's Been, and a collaboration album between the Dead and Bob Dylan.
In 1967, he drew the original logo for the Rolling Stone magazine. He became known as one of the big five psychedelic artists of the time, together with Wes Wilson, Victor Moscoso, Mouse Miller, and Alton Kelley. His flying eyeball poster is thought to be one of the most iconic and essential psychedelic art pieces. Even at the forefront of this movement, he still produced comic art as he did when he was younger, and even combined them in the comic "Man from Utopia," which Jerry Garcia believed was his best psychedelic work, saying it was similar to a hallucination he'd had on psychedelics and which carried through some of almost indescribable experience's essence. Griffin also worked on a number of comics including Zap, Snatch and Tales From the Tube. He also ended up creating covers for the Quicksilver Messenger Service's first, self-titled album, Jefferson Airplane's 2400 Fulton Street and the Grateful Dead's Without a Net. He was a huge part of the San Francisco music scene during the 1960s and 70s. In 1969 he moved back to Southern California and made his home in San Clemente. There, Severson asked him to create a poster for and appear in his new movie Pacific Vibrations. While working on the piece, Griffin's daughter was born, and he featured his wife and the unborn child in the poster.
Rick became a Christian in the 70s and this dramatically influenced the direction of his art. He created the Illustrated Book of Saint John and work for the Calvary Chapel, which ended up hiring him as an art director for their affiliated music production company, Marantha! Music, so he became a part of the Christian music scene. He designed flyers, posters and album covers for them. Then, in 1976, he flew to Europe to exhibit his work with friend and agent Gordon McClelland. He showed his work in London, Sunderland, and Amsterdam, and then took some time to try out the waves in France and Spain. On their way back home, McClelland wrote up Griffin's biography while Griffin created the cover art.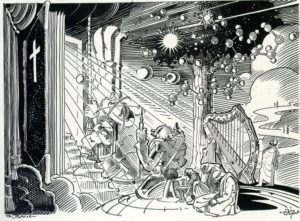 He drew a logo for the band Cult's as well as some cover art for them in the 80s. One cover he made for a single entitled "Soldier Blue" didn't come out because the band decided against producing it, but it was later used as a template for their "Rare Cult" album. Near the end of his life, he continued surfing, and was researching Celtic runes. His last artwork before dying from severe head injuries sustained in a motorcycle accident was strangely prognostic: it depicted him in front of the the gate of heaven, tools of the trade in hand. He died August 17th, 1991. In an interview that year, his peers Moscoso and Kelley said he was probably "redesigning the pearly gates."
Bibliography
http://www.myraltis.co.uk/rickgriffin/index.htm
http://www.artnet.com/artists/rick-griffin/
https://proxying.lib.ncsu.edu/index.php?url=http://search.ebscohost.com.prox.lib.ncsu.edu/login.aspx?direct=true&db=a9h&AN=9109233380&site=ehost-live&scope=site
https://www.youtube.com/watch?v=aacVCdbUVjk