Ikko Tanaka Noh Posters
Tanaka's first Noh-inspired poster was commissioned for Noh Play, The 8th Sankei Kanze Noh, 1961. It was created as a screen print at 40 11/16 x 28 3/4in. An original print currently resides in the collection of Cooper Hewitt. This poster is one of the few posters in this entire series that doesn't feature a face made up of geometrical figures, but rather focuses on the grid structure, color blocking, and typography. These three elements prove to be indispensable in the rest of what would become a legacy of iconic graphic design work.
The most iconic of these Noh-inspired posters (and maybe Tanaka's most immediately recognizable piece of work) is his Nihon Buyo theater poster, created in 1981. In this composition, we see a traditional Japanese theatrical character- a Geisha- whose visage is reproduced using only rectangles, triangles and circles. His masterful manipulation of geometry is evident here: the addition of two half circles tilted slightly inward gives the appearance of eyes, and gives reasoning for the placement of all other shapes that make up the hair, headband, makeup, and traditional garb of the Geisha. As stated by AIGA's Eye on Design, "it's the perfect example of his transformation of Japanese tradition into late 20th century modernity. It's known to all as Tanaka's trademark."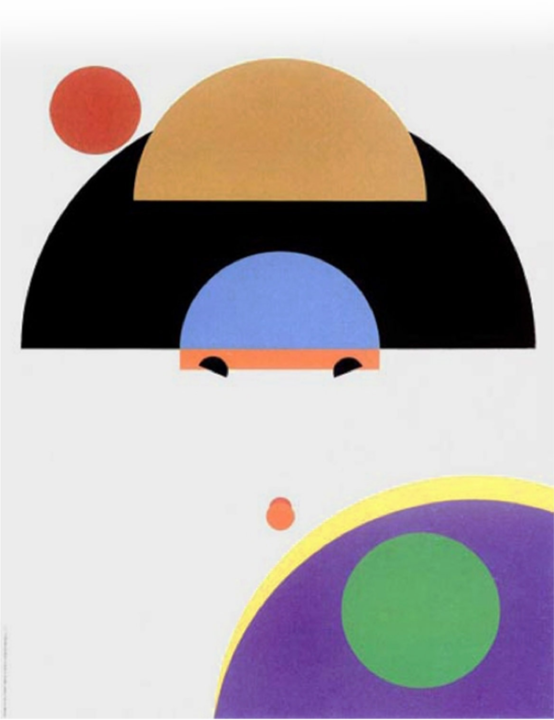 Other posters focused less on strict, rigid geometry, and more on the relationship of colors and shapes to the grid. The color palette is always high-contrast and impactful. There is still a great deal of geometry at play here, but what always shines through as the most impactful element is the way he manages to make shapes flow to translate a human-like figure. Something about this transformation of basic elements into something that feels more reverent and other-worldly really drives home his dedication to traditional Japanese aesthetics.
In his biography, I mentioned how one of Tanaka's earliest inspirations was Japanese woodblock printing. I think the influence of this is apparent in his unique use of both pastel and vivid colors in solid shapes. With the exception of a few small gradients, these posters are entirely made up of blocks of color and scarce type, much in the way woodblock prints would be produced. The way Tanaka thinks about shapes flowing together, not just as lines, squares, or circles, is indicative of his reverence for the precision of his forebearers woodblock work. Observing the way Tanaka plays with subverting geometry and high-contrast color palettes, it's easy to see where Bauhaus also further inspired his approach to design.
As designers, we know that posters are largely a form of visual communication. In the context of Tanaka trying to push a modern Japanese aesthetic towards the rest of the design world, the fact that he used faces found in traditional Japanese art and culture to put his message across is nothing short of brilliant. The use of such an immediately recognizable historical emblem of his culture, juxtaposed with hyper-modern geometry and shapes, transmits a signal that says "Japanese art is modern, and uniquely ours."
An exhibition of Ikko Tanaka's posters entitled "Ikko Tanaka: Faces. Posters." is currently on display at the Pinakothek der Moderne – Din Neue Sammlung in Bavaria, furnished by the Bavarian State Painting Collections. Of Tanaka's posters, they say "Ikko Tanaka's style could be outlined as combining bold abstraction with the balancing of opposites; it is expressive, elegant, and powerful."
Other resources:
The Japanese Language of Graphic Design – LA Frimeuse
Poster, Noh play – Cooper Hewitt