Ikko Tanaka
For my submission for the "Who's Who in Graphic Design" project, I've chosen to write about artist, graphic designer and typographer Ikko Tanaka.
Since beginning my journey into design at age 15, I've always been fascinated with work that has a strong Japanese influence or point-of-view. From my perspective, there is often a deeply-imbedded sense of whimsicality and fantasy in traditional Japanese art and culture. It's truly astonishing and beautiful when this style finds harmony with more modern design elements like hard geometry and grid systems, and Tanaka's work is no exception. 
Ikko Tanaka was born on January 13th, 1930, in Nara City, the first permanent capital of Japan. Not much is known (or publicized, at least) about his early life, but we do know that his interest in the creative arts started at an early age. As a child, he studied art at the Kyoto City School of Fine Arts. As a young adult, he was involved in modern drama and performance, and joined the Atelier-za theatrical study group. It was in this performance studio that he became acquainted with Kabuki and Hokusai's 19th-century woodblock prints.
If we assume that the work of Kasushika Hokusai – specifically, his woodblock prints- were some of Tanaka's initial design inspirations, it's easy to see where his use of traditional Japanese aesthetics some from. Much of Hokusai's work was inspired by being exposed to French and Dutch copper engravings, and focused on landscapes and images of the daily life of Japanese people. Themes of nature, rhythm, and serenity, as well as makeup styles like Kabuki, clearly reveal themselves in Tanaka's later work.
Tanaka went on to graduate from the Kyoto City College of Fine Arts (now known as the Kyoto City University of Arts) in 1950. Two years later, he joined the Kanegafuchi Spinning Mills, where he worked as a textile designer until 1957. During his time at the Spinning Mills, he began his independent career of designing posters. His first work came in the form of a commission for an Argentinian orchestra concert advertisement. In 1961, he created the first of his 30 year-series of iconic Noh-themed posters.
One of the core elements of Ikko Tanaka's visual language is his masterful manipulation of geometry, exemplified by his series of Noh posters. In these designs, the face is always the focus of the piece, but the composition always varied in the way in which shapes and colors formed the features. In his 1981 Nihon Buyo poster for UCLA (as seen above), the entire composition is made of rectangles, triangles, and circles that comprise the delicate face of a Geisha. What truly brings the entire piece together is the two half-circles in the middle, tilted slightly inward to give the appearance of eyes. This slight but crucial touch gives rationale for the placement of the purple rectangle (the hairband), the small pink gradient (blush) and the two small circles in the center of the lower half of the page (lips).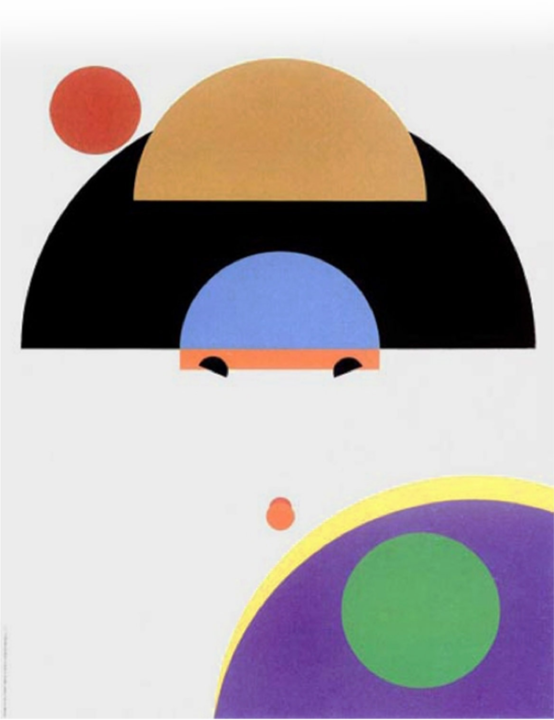 A few years after leaving his position as a textile designer, he was employed as a graphic designer and art director at the Sankei Shinbun, Nippon Design Center (shortened to the NDC). The Nippon Design Center was established in December of 1959 and was, in their own words, born from "Japan's top designers, copywriters, and photographers joining together as a creative organization aiming to further develop and improve the quality of advertising design in Japan." Having acquired investment from some of Japan's biggest companies- including Asahi Breweries, Toshiba, Toyota Motor, and Nikon- the establishment was undoubtedly a creative powerhouse.
Time spent at the NDC allowed Tanaka to start to spread his wings and come into his own as a designer. During his time here as a designer he spearheaded a multitude of print projects, from books to posters to advertising materials. In 1962, he helped develop the very first NDC exhibition, held in Amsterdam. In this same year, the Swiss design magazine "Graphis" published a feature article about the NDC.
In 1963, the Ikko Tanaka Design Studio was established in Tokyo. Through his studio, he completed work for the 1964 Tokyo Olympics, which was a notable feat for two reasons: the youth of his studio, and the fact that his previous employer, the creative powerhouse that is the Nippon Design Center, was only offered the same opportunity two years later. Tanaka designed the symbols, signage, and medals for the Tokyo Olympics. Throughout the 1950s and 60s, Japanese designers made a great effort to make an impact on modern design; by using the 1964 Tokyo Olympics as a platform for his work, Tanaka earned his spot as one of the best representatives of Japanese design.
Around this time he became acquainted with creative director Kazuko Koike. During this time Koike "remembers that… she was pursuing an outstanding visual representation of Japanese cultural manifestations, which ended up in manifold successful collaborations with Tanaka."
 One of these collaborations is Issey Miyake. East meets West, which began in 1978, and still carries on today (!), with their most recent collection being released in 2016. In testament to the newest collection, Issey Miyake states that "Ikko Tanaka continued his challenge to create new value at all times. By expressing his powerful works in the form of clothing, we wish [for] many people to recognize the ideal form of design along with its [essence] of fun." Tanaka's studio went on to collaborate with Hanae Mori and Kenzo Takada, also Japanese fashion designers with an eye for the modern and avant-garde.
Tanaka went on to design for the Osaka World Expo in 1970, where he designed the Japanese historical pavilion. In 1973, the Saison's Seibu Theater in Tokyo began commissioning posters inspired by his previous work creating Noh faces as advertisements, followed by a similar request by The New National Theatre in Tokyo. He eventually went on to become the art director of the Saison Group, and led numerous design projects, including installation work, exhibition spaces, galleries and theaters. In 1985, he oversaw the design of symbols for the Tsukuba Expo, and in 1996 designed for the World City Expo Tokyo. It is estimated that throughout his entire career, he oversaw the design and development of over six-hundred-and-fifty books. To this day, his work remains a part of the permanent collections in the Museum of Modern Art in New York and the Stedelijk Museum in Amsterdam. 
In an interview with Yeonsoo Chee, a Korean native and art curator in California, Kirk Silsbee writes that "[Chee] acknowledges that there was always something quintessentially Japanese in his work… Tanaka was constantly evolving and changing but something remained with him at all times: the ability to give the viewer something simple but powerful at the same time." His body of work throughout his life spanned advertisements, books, posters, packaging design, textiles, installations, identity, and typography- not only was his talent multi-faceted, but carried a clear passion for imbuing as many facets of the world around him with his artistic vision.
Ikko Tanaka died on January 11th, 2002. In his lifetime, he created work that was constantly on the cutting edge of the design world, but was always deeply influenced by his own whimsical nature and traditional Japanese aesthetics. It's nearly impossible to imagine a future in which modern Japanese design could outgrow seeking inspiration from Tanaka's endlessly brilliant style.
Other resources:
Ikko Tanaka and His Noh Posters – Xiaoyang Wang
Ikko Tanaka – History of Graphic Design
The Work of Ikko Tanaka – Spread
Ikko Tanaka, 71, Who Fused Old and New in Graphic Design, Dies – Steven Heller, The New York Times