Fred Woodward Rolling Stone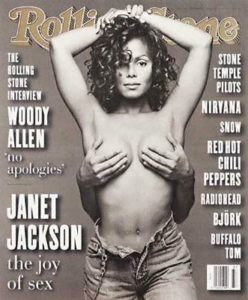 This 1993 cover of Rolling Stone magazine featuring a topless Janet Jackson, whose chest is covered only by the hands of her then-husband René Elizondo, is one of the more iconic covers. Elizondo is not actually pictured, only his hands, so as not to take away from the statement the image is making. The cover was designed by Fred Woodward. It was released six years after Woodward's first cover was released. His first cover featured the classic rock band Motley Crue. It was a standard photograph of a rock band, featuring all the band members in grungy attire standing together and throwing up hand gestures that symbolize rock. This cover was Woodward's first iconic cover. It is iconic not only because it features a topless woman, which was beyond risqué for this time period, but it established Janet Jackson as the sex symbol she is still known as today. Jackson had been featured on a previous cover of Rolling Stone in 1990; the cover was just a headshot of Jackson. This cover was what secured her new raunchy image. Jackson had just signed a nearly $50 million contract with a record label, thus starting her career. This photograph was also used on the cover of her debut album, janet.  The article also discusses in detail Jackson's new image.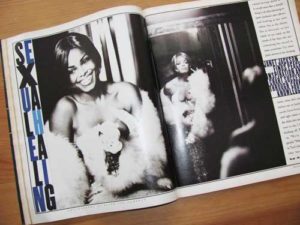 The article also features Woodward's signature style of typography and photography, breaking up the letters and words so the reader is forced to read them in a quick and direct way. Until this magazine was released, Woodward had not yet established the title of the notorious art designer that he holds today. After this issue hit the stands, journalists across the country stated that it became one of the most easily recognizable and invective magazine covers of that year. After seeing the reaction, both positive and negative, the public had to the cover, Woodward decided to keep going in the same direction. Woodward felt as though the few negative comments the issue received was worth the publicity the magazine got. After hitting a lag in the eighties, Woodward realized what the public wanted from magazines and jumped on the opportunity to help bring the magazine back to life.