Lester Beall
Steven Dye
GD 203
3/13/18
Lester Beall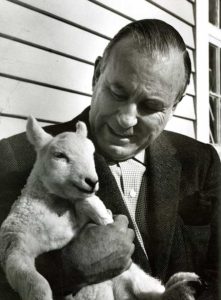 Graphic Design is an incredibly valuable tool that has been used for centuries and continues to do so in the modern world. This skill can be used to create a vast amount of useful designs such as posters, typography, logos, and much more. The key aspect of Graphic Design is to create something appealing for people to look at and understand. Most designers want people to remember their design and to help make things easier to remember such as a roadmap or a logo. Of course, Lester Beall is no exception to this rule and many of his pieces still live up to today's standards. Lester Beall was a gifted child who grew up to be an extraordinarily inspiring and successful graphic designer.
Lester Beall was a prominent and self-taught graphic designer. He was born 1903 and passed away in 1969. During the summer, when he was young, Beall would spend his time at his Grandparent' farm. When there, the young Beall would use his time to create many different types of posters to entertain himself (NyTimes.com). Despite being a self-taught artist, he did attend college at the University of Chicago and obtained a degree in art history. He graduated in 1926 and became a commercial artist afterward. Beall was born in Kansas City, Missouri, but he grew up in Chicago and later developed a strong presence in editorial, corporate entity, advertising, and packaging. Further down his life, he married Dorothy Miller Beall, and together they had a daughter named Joanna; both were supportive of his work. Beall is often credited towards taking graphic design out of dull and tedious vision and transforming it into something much more visually appealing. He lived from 1903 to 1969. According to Beall,
"A designer has the responsibility to give his audiences not what they think they will want, for this is almost invariably the usual, the accustomed, the obvious and, hence, the unspontaneous. Rather he should provide that quality of thought and intuition which rejects the ineffectual commonplace for eventual originality" (web.archive.org).
In other words, a designer should attempt to go above and beyond with his or her work. By 1927, after college, Beall had started his career in design. Eight years later, Beall moved to New York late September to open up a workplace to do business in his apartment in Tudor City. During his time there, Beall had produced some of the most innovated pieces of graphic design that anyone has seen. Many of these works were done for clients (Aiga.org).  Arguably, his best works came from Crowell Publishing Company where he produced, "Hitler's Nightmare" and "Will there be War". These two designs were powerful for his point in time. As a designer, Beall believed that
"designers must work with one goal in mind—to integrate the elements in such a manner that they will combine to produce a result that will convey not merely a static commercial message, but an emotional reaction as well. If we can produce the kind of art which harnesses the power of the human instinct for that harmony of form, beauty, and cleanness that seems inevitable when you see it? then I think we may be doing a job for our clients" (Lester Beall/Aiga.org).
It was this belief that helped make Lester Beall one of the most inspirational graphic designers of his time.
According to Beall, a designer must be interested in other fields such as photography, music, literature and more. Of course, all three of these aspects interested Beall. Photography was an important aspect of Beall's creative process as he experimented with it while living in Chicago. Some of his biggest inspirations would include the European avant-garde designers El Lissitzky, Herbert Bayer, and Lazlo Moholy-Nagy. Beall carried his camera with him at all times and ended up taking the most innovated and strange photos of that time. Some of his images were even featured in many different magazines such as What's New and ORS. Beall even used some of his pictures as a center point for his lectures. He also had a darkroom in the studio to bring his pictures to life; as expected for the time (Aiga.org). Music was another creative aspect that helped inspire Beall to create his works. He would often listen to jazz and live broadcastings to get his imaginative gears turning. Listening to music tends to be a great source of inspiration to many people and not just Beall. In addition to snapping photographs and listening to music, Beall was also an avid reader. He collected many books and magazines since the beginning of his career and continued to do so for many more years. Many of these books were on the topic of art, architecture, design photography, and more (Aiga.org). The path to becoming a great designer takes more than just picking up a pencil and drawing.
Along with poster design, Lester Beall was also skilled at typography. Bealls daughter, Joanna Beall Westermann, mentions that her father learned the art of typography from his father, according to the NYtimes.com. It was said that many of his typefaces were inspired by El Lissitzky, a Russian Constructivist. Some people believed this due to the fact that both designers used their work for political themes (NYtimes.com). Beall loved playing around with symbols with his favorite being an arrow which is prevalent in most of his works. He liked the arrow for its natural look and understanding. Hitler's Nightmare demonstrates Beall's love for arrows perfectly. Another recurring theme in Beall's posters would be the colors red, white, and blue. These colors obviously symbolized American patriotism.
Throughout his life, Lester Beall had many different effects in the design world. He was recognized for many of his innovated designs and adaption of European Modernism. He was most successful during the 1930's with his best pieces being related to World War 11. In 1937, the Museum of Modern Art gave him a one-man show where he introduced his best pieces to an audience. The Museum of Modern Art had never given such an honor to a graphic designer before. Four years after his death, Beall was voted in the New York Art directors club for their prestigious Hall of fame. Beall was believed to have made graphic design a respectable medium in America.
Despite being such a phenomenal artist, Lester Beall is barely mentioned in the modern-day world. Although not that many people are aware of who Beall is many people have seen his work. For example, some of his corporate logos are still used today including International Paper. This logo was designed in 1960 and comprised of a simple tree, initials, and an upward arrow (logoorange.com).  The simplicity of the logo is admired by many graphic designers for its simplicity. One aspect that made Beall's work so popular was his use of patriotic colors and political relevance. His simple and visually appealing posters helped people understand the political state that was happening.
Overall, Lester Beall was a fantastic artist for his time. He helped revolutionized the world of graphic design by introducing a variety of new and interesting designs that made people recognize the potential of the art form. Although Beall is no longer famous today, his work will live on forever and will hopefully inspire graphic designers for ages to come.
Works Cited
Biography by R. Roger Remington  March 01. "1992 AIGA Medalist: Lester Beall." AIGA | the Professional Association for Design, 1992, www.aiga.org/medalist-lesterbeall. (photo came from here)
Communication Arts: Features, Apr. 1999, web.archive.org/web/20070701004049if_/http:/www.commarts.com:80/CA/feapion/beall/.
"Logo Design History – Famous Brands Glossary." Logo Design History, 2005, www.logoorange.com/logodesign-I.php.
Reif, Rita. "A Designer Whose Specialty Was the Sunny Side." The New York Times, The New York Times, 3 Nov. 1996, www.nytimes.com/1996/11/03/arts/a-designer-whose-specialty-was-the-sunny-side.html.