Projects: Play
Title: Daily Create Immersion Experience
Submitted by: Cris Crissman
Inspired by: DS 106 and The Daily Shoot
Challenge: Beginning on the first day of class, complete The Daily Create Challenge for every week day throughout Session 1 — that's ten daily creates. Strive to complete each challenge in 15 minutes or less. Post before the end of the day. Expect to spend a bit more time if the medium (photography, audio, video) is new to you. It's highly likely that over a course of two weeks that you will need to set up a Flickr, SoundCloud, and YouTube account if you don't already have these.
Project Specs:
Post your completed Daily Create to the appropriate collection (Flickr, SoundCloud, YouTube, Google Doc).
Tag your Daily Create with three tags: "dailycreate," "tdc___," and "bookhenge"
Pause after completion and jot down a note sharing a reflection about your creative process for this challenge. You'll review these notes when you critically reflect on this project.
At the end of the session, critically reflect and synthesize what you have learned about your creativity and your creative process in a blog post.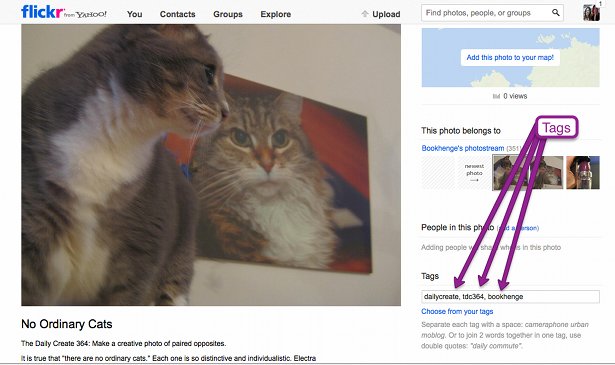 "Plays Like Cleese"
Submitted by: Cris Crissman
Inspired by: Maria Popova, Brain Pickings
Challenge: Did working on the Daily Creates feel like play? Maybe, hard play to use Seymour Papert's term? Read/view Maria Popova's video essay on John Cleese's take on creativity and the value of play. Post a brief reflection to your blog comparing and contrasting John Cleese's advice on the value of play and your TDC Immersion Experience and what it takes for you to be playful and creative.
Here's a great example of Cleese's creative work/play.