Tableau Vivant
Challenge: "Re-create" a well-known visual (photo/ad/painting or frame from a movie). Learn more about this fascinating form of art photography — Tableau Vivant.

So I was trying to decide which photo I wanted to re-create.  I Googled "famous movie scenes" and a picture of Dorothy on the Yellow Brick Road appeared.  I immediately thought of Charlie- he's the blonde version of Toto in the picture with me.  I Googled "Dorothy and Toto" to find this picture.
Charlie is my mom's dog and a rescue from Wake County Animal Shelter.  He is awesome. He's well-behaved, likes to go for long runs, likes to ride on kayak, is good in the car- all around a super dog.  My mom had always wanted a "Toto-dog" (Cairn Terrier) so  I  saw it fitting to let Charlie play the part.

To set this up I enlisted the help of my parents. Parents should always help their kids with their homework, even if their kid is a grown-up (technically), right?!  My mom was there to press the button on my phone at the most opportune times of Charlie posing and my Dad was standing in the background trying to get Charlie to look in the same direction as Toto.  It was actually hard to try and get Charlie to extend his paw while also trying to focus on my own body posture.  I had a tendency to want to look up at Charlie more than Dorothy was at Toto and I also tried keeping my hand delicately curled.  It was also REALLY COLD.  Charlie was a trooper and given TONS of treats

.
We actually tested out two sites and I ended up going with the a shot taken from our back deck.  The other area had a backdrop closer to what you see in the original picture- but the best poses happened on the back deck.  The weather lighting was perfect to match the stormy sky created in the studio.  I tried making myself lighter…but I think I'm just not as fair-skinned as Judy Garland and the results just looked weird.
I used the sepia mode on my Android Evo Shift phone to take the picture. Once downloaded to the computer, GIMP was used to modify the hues slightly and blur the background. Microsoft Publisher was used to crop the photo, place it next to the original photo and then group the two pictures together.  Below is one of the other 24 photos taken.  It was Charlie's best "paw" moment- too bad he was being extra cute by looking right at the camera.

 I had forgotten to open my mouth and pretend to sing "Somewhere Over the Rainbow".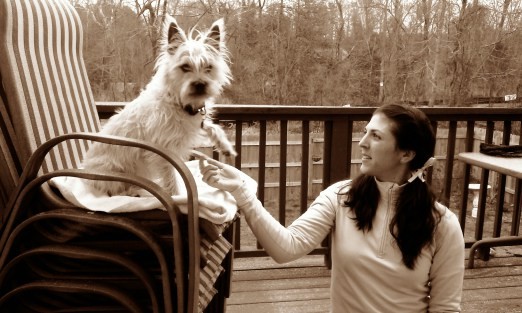 Charlie could also use a haircut!
Source: Unicorns and Evening Gowns » Conversations Source URL: http://behrleeci509.wordpress.com
About The Author
Related posts