Reflection on design
I usually consider a job well-done when my mom tells me I did a good job. The design project was no different and I'm proud to say that she was happy with the outcome and and even gave me advice for changes I may want to make. Thanks, Mom.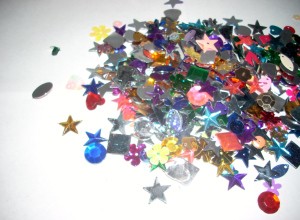 Going into this project I felt confident in my skills as a photographer, but as with most creative projects, I had mixed feelings on the topic. Sometimes I get an assignment and know exactly what I want to produce. This time I had a few more stops on the design journey. Initially I was going to take pictures of Carly to illustrate the elements of design. Then I tried taking pictures of her and she only has one pose, on her back with her legs up in the air. It was limiting. And then I was back to the drawing board. I happened to be at work the next day and playing with art supplies when I saw some of the elements I was trying to describe. I decided to go with it and try some photographs with the art supplies I was able to find in the camp cabinet. As soon as I got going, I loved it! I saw so many of the elements I was trying to illustrate perfectly laid out in front of me that I almost had trouble deciding which pictures to use and which element for each to illustrate. The sparkly shapes above was just one of the shots that didn't make the final cut.
Coming out of the project, I have a clearer understanding of how my creative process leads to results, but not always the results I initially imagined. More than ever I think that design is a journey and often you end up where you planned and occasionally it's not at all where you intended.
Even when you end up somewhere unexpected, it's still good to be there.
During our Second Life discussion I saw that I wasn't the only one who felt this way and it was comforting to know I wasn't alone. Our next assignment will be on storytelling, but don't worry, I've got a few tricks up my sleeves.

Source: thepostcollegeblog » Conversations Source URL: http://thepostcollegeblog.wordpress.com
About The Author
Related posts