Meaning
When the Schwartzberg video challenged viewers to consider cultivation and gifts to the world, I immediately thought of sharing knowledge.  I certainly appreciate the air, water, earth, and organisms responsible for maintaining us, however, I thought more about my growth as an individual from childhood.
The best gift I can imagine is having a person in your life to show you what the gift of giving is about.  My mother was never selfish when it came to sharing her knowledge, even if it was a bit biased or warped.  She wanted others to be aware of things she may have deemed important or that could expand their ways of thinking.  In reflection, I am the same way.  I appreciate new information and love to share with others.  I have found that everyone does not share this appreciation, especially those who are confined to narrow ways of thinking.  These are usually the people who fail to appreciate or reduce the importance of major issues.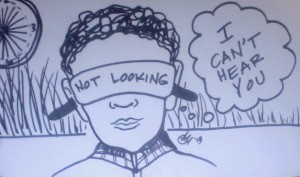 What comes to mind then?  "Ignorance is bliss."  A large number of the people I have encountered bundle up in their safety nets and hide behind societal constructions of acceptability as a way of justifying their presence on the planet.  The less they know, the less they are accountable.  When they do finally realize that something may be important, ten paradigms may have shifted.  This quick sketch represents my interpretation of that part of the population. I am additionally grateful that I am on the polar end farthest from them despite my own inadequacies.
Again I ask, are parents/guardians responsible for adding or detracting from future ways of thinking?  The answer is yes!  Should we be mad or upset?  That answer is no!  People can only be responsible for what they know despite how and when they stumble upon information.  HOWEVER, WE can make a conscious decision about being more responsible and giving the gift of knowledge to those we come in contact with.


Source: mspevans » Conversations Source URL: http://mspevans.wordpress.com
About The Author
Related posts